For thousands of years the alchemists had searched for the yellow secret of gold. For thousands of years, artists have been discovering the golden secret of yellow. Artists, quite magically, can trespass into the land where chemistry can not. Paulo Coelho, in his most famous novel 'The Alchemist' says,
"The simple things are also the most extraordinary things, and only the wise can see them."
Artists have the eyes to discover the most extraordinary things hidden under a simple veil. Here, let us have a treasure hunt and find the secrets of the yellow colour from the artists' eyes.
Yellow is one of the oldest color in the history of art. One of the earliest examples of yellow ochre is found in 17,000 years old cave paintings. It was made from natural ochre minerals. Yellow is also present in some of the prehistoric paintings of Ancient Egypt and Ancient Rome. It is curious to observe that Yellow also carries a negative meaning in religious paintings, especially in the context of christianity. Yellow is typically the color that Judas wears. It also denotes 'outsiders of faith'. During the Renaissance Jewish people were marked with the colour yellow. This was brought back in the times of Nazi Germany, when Jews were marked with a yellow star.
In the Modern Paintings, yellow plays the role of a queen. Van Gogh, the maestro of painting, was probably in love with this color. Most of his notable works unveils a new mystery of the color, yellow. 'Sunflowers', 'The Starry Night', 'Wheatfield with Crows', 'The Yellow House' are some of them. Thus, he observes-
"How beautiful Yellow is, it stands for the sun"
In fact, his very close friend and another famous painter Paul Gaugin commented on Van Gogh's vision on yellow, saying- "Oh yes, he loved yellow, this good Vincent, this painter from Holland – those glimmers of sunlight rekindled his soul, that abhorred the fog, that needed the warmth."
Not only Van Gogh, 'The Kiss' by Gustav Klimt, 'The Sistine Madonna' by Raphael or 'Tahitian Woman with a Flower' by Paul Gaugin are exceptional examples of Yellow paintings. The discussion of artists experimenting with the yellow color would remain incomplete if we do not mention Wolfgang Laib, the German artist. He collected pollen from a huge variety of plants and flowers. Then he scattered the bright yellow pollens to shape his creative ideas. This poetically beautiful idea has added a new dimension in the chapter of yellow art. Now, let us find out how our contemporary artists have seen and interpreted the yellow color.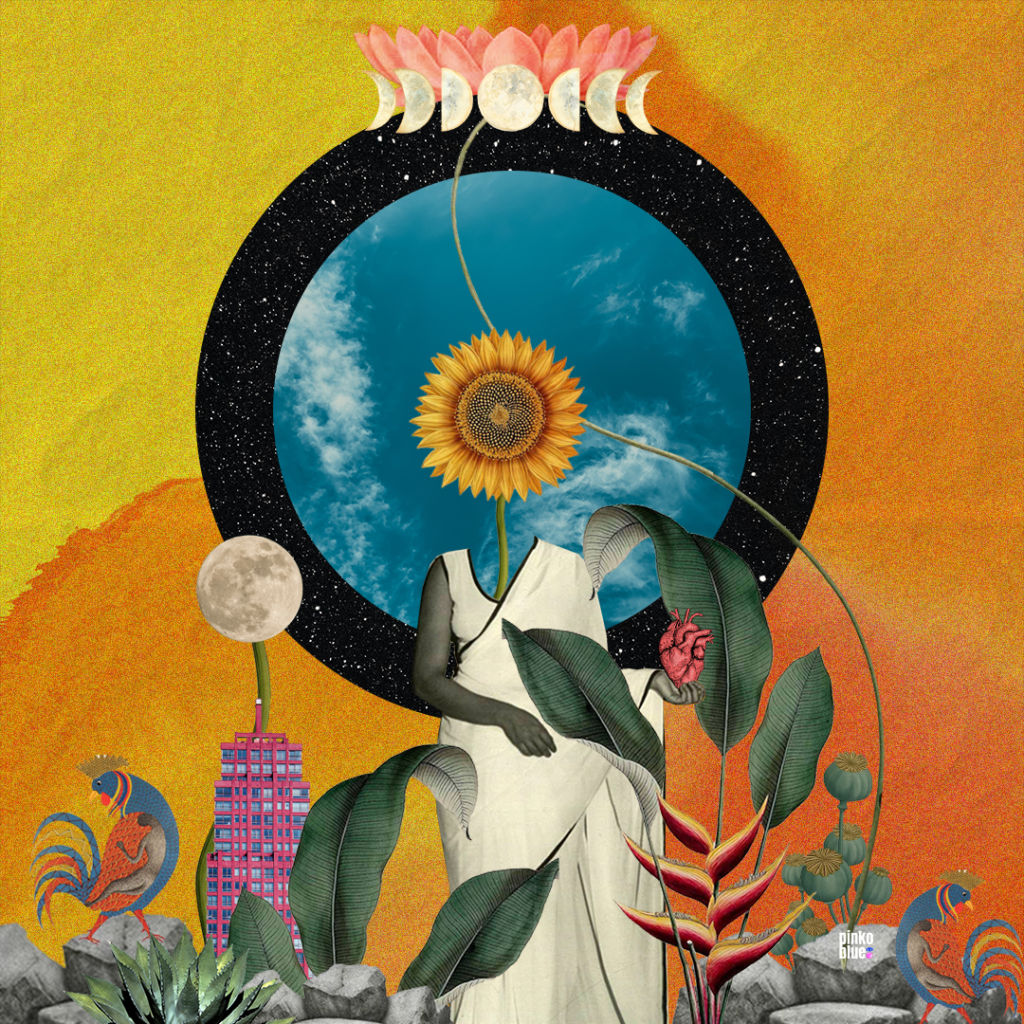 Yellow From The Artist's Eyes
Name of the Artist: Dipanshu Singhall,
UX designer and Visual Artist.
Artist's Interpretation of Yellow:
What yellow colour means to me :
"I didn't find light in yellow when it was burning like the sun, but solace in the shadow of when it was setting behind the palm trees at 6:31 pm"
It is a color of happiness and bright smile, yellow in a room brings so much joy just by looking at it and so by this experience a yellow element just adds life to everything. As an artist if I could paint the world I would paint it with hues and tints and of yellow.
P.s Yellow yellow is a happy fellow.
Name of the Artist: Sharanbir Kaur
A dentist by profession & artist by passion.
Artist's Interpretation of Yellow:
The colour yellow for me symbolises hope, warmth, joy and all things happy. Artistically it's one of the oldest color to have been used. I think of the color yellow and my mind immediately skips to memories of warm sunsets and sunrises. A touch of yellow on any canvas lends a warm hue to the art.
Name of the Artist: Akshara Ashok
Illustrator, TEDx speaker.
Artist's Interpretation of Yellow:
As an artist, it's really hard to pick a favourite colour but if I had to, I would pick all the pastel colours. Each of those soft shades have a meaning of their own. Yellow for me means summer, sunshine and all things nice. I'm a huge fan of anything shiny! So I add yellow to add life to my comics from time to time. Yellow and pink are one of the colours I use most in my work because it takes me back to my childhood. As a child I received a yellow blanket from my mum as a gift and I have treasured it ever since. Maybe that's why I love the soft shade of yellow so much because it reminds me of warmth and safety.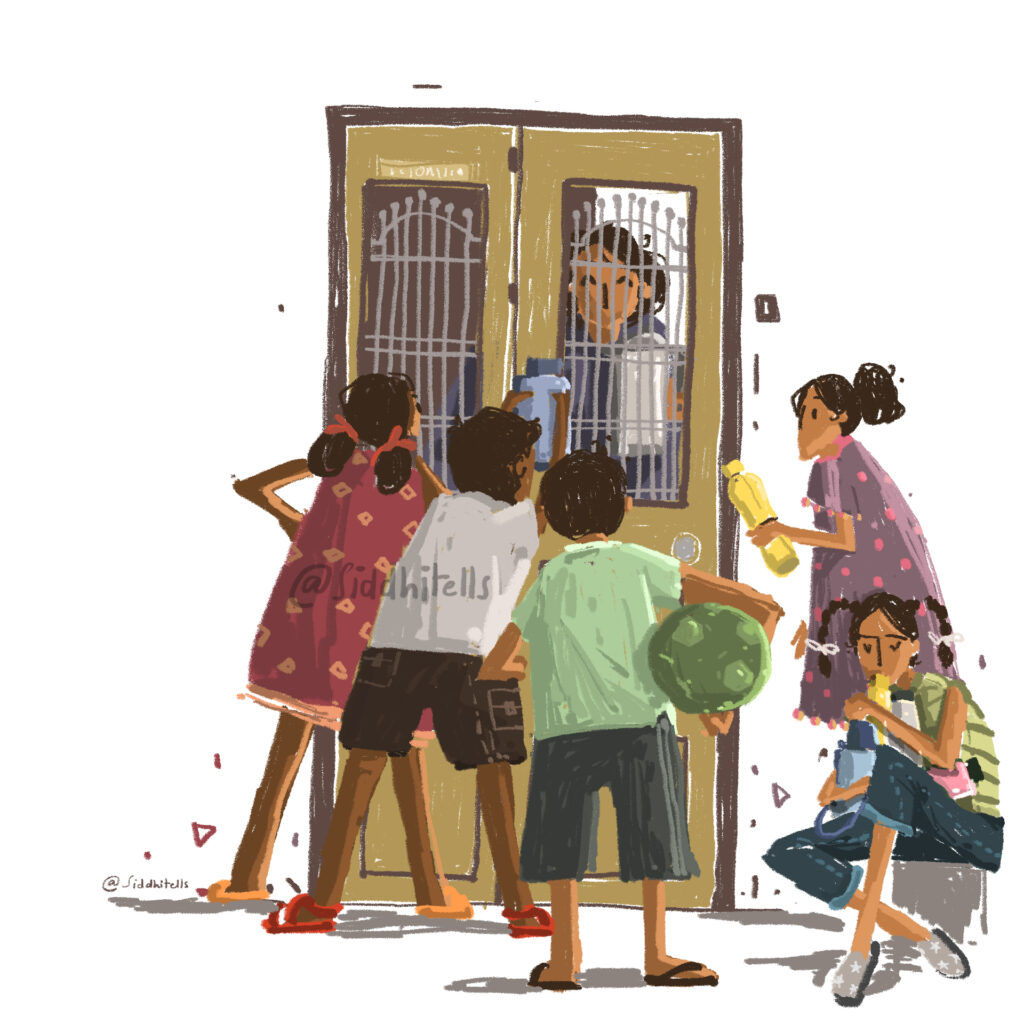 Name of the Artist: Siddhi Vartak
Illustrator, and Animation Film Designer from NID, Ahmedabad.
Artist's Interpretation of Yellow:
I associate yellow with afternoons. Hence yellow is also warm, silent, and cozy for me. It reminds me of ceiling fans and resting people. The color is not too bold like red, not as speechless as white, it's lukewarm for the shade of yellow that I imagine is comforting and mellow. It reminds me of the sound of television leaking out of the slightly open doors, of tired ladies dozing out while reading a newspaper, of construction sites playing like white noise in the background, and of children hoping to dash out as soon as the clock hits five just after the tea is served. Yellow is in it all.
Name of the Artist: Bhavya Desai
Illustrator, Featured in The Hindu,Indian Express etc
Artist's Interpretation of Yellow:
Yellow. The color of the sunshine.
I am a morning person, and I am in the best state of mind during mornings – chirpy, energetic, optimistic.
In my illustrations, I use 'yellow' when I want to depict something involving a lot of vitality like, for instance, the energy of the Kolkata airport.
Name of the Artist: Akanksha Agnihotri.
Illustrator, owner of 'doodlesndreams'
Artist's Interpretation of Yellow:
Yellow, to me, is sun shine, happy faces, fields of sunflowers and motichoor laddus. It's the colour of the kadhi my Mom makes on every special occasion and the colour of my favourite pineapple cake. Yellow is mangoes, the only thing I like about summers and the fragrant marigolds in the corner of the garden. It is also the most used colour on my colour palette. Yellow is warmth. Yellow is glee.
Yellow is hope.
Name of the Artist: SAMji
Illustrator
Artist's Interpretation of Yellow:
According to me, yellow is a tricky colour. The colour yellow is never present in my personal things, gadgets or even in my room, as it will affect the aesthetics I present to the outer world. It'll just disturb the balance of it. But ironically, while creating illustrations, one of the common elements in my style is the yellow circle which I use often to create balance in the illustrations. It fits right in and balances the contrast while still creating an aesthetically pleasing visual. Another reason is that its variants can be used as both warm colours and cool colours. Yellow adds a fun and happy element to the illustration too.