If there could be one thing that a Greek figure, Midas, might have touched and turned into gold truly, it could only be Gustav Klimt's most famous painting, 'The Kiss'. Being the last painting of the Austrian artist's Gold period, the painting had been an artistic inspiration for many works and had been part of several discussions as well.
The painting was popular even before it was completed and had a buyer even before the artist could put final touches to it. After being put up in the gallery, it took the art community by a storm for its sensuality, strong impression it conveyed and the questions it raised in the minds of orthodox societies. Few societies considered it to be vulgar and pornographic, while associates of Sigmund Freud, the renowned psychoanalyst, tried to expose the suppressed sexual desires of the artist through this work.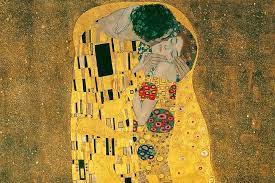 Whatever controversies the painting might have faced, when you look at it today – a bright golden frame depicting a passionate embrace, you are filled with several emotions at once – from inspiration to longing to love to desire to a compassion for the art. So, the next time you see the work or something created inspired by Klimt's art, you might be able to appreciate the grandness of this literally, golden gem of art.
The Kiss is homed today in Vienna's Austria Gallery.