Eating plant-based foods is not only healthier for you but also better for the planet. It's a win-win situation
With the rise of vegetarianism and plant-based diets, many individuals are reaping the benefits of a meat-free lifestyle. However, concerns about obtaining sufficient protein often arise. Fortunately, numerous plant-based protein sources can provide all the essential amino acids necessary for a healthy vegetarian diet. In this article, we will explore a variety of protein-rich foods that can support vegetarian individuals in meeting their nutritional needs.
Legumes: Nature's Protein Powerhouses
Legumes, including beans, lentils, and chickpeas, are fantastic sources of plant-based protein. Packed with fiber, vitamins, and minerals. Legumes offer an impressive protein content per serving. Whether it's a hearty bowl of chili with kidney beans or a delicious hummus made from chickpeas, legumes are versatile and can be incorporated into a range of savory dishes.
Quinoa: The Complete Protein Grain
Quinoa is a superfood that stands out from other grains due to its high protein content and its ability to provide all nine essential amino acids. This makes it a complete protein source, similar to animal-based proteins. Whether used in salads, stir-fries, or as a side dish, quinoa adds a nutritional punch to any meal.
Tofu and Tempeh: Soybean Marvels
Tofu and tempeh, derived from soybeans, are staple ingredients in vegetarian diets. These plant-based protein sources are incredibly versatile and can be used to create a wide range of dishes, from stir-fries to burgers. Tofu and tempeh are not only excellent sources of protein but also provide essential nutrients like iron and calcium.
Nuts and Seeds: Compact Protein Powerhouses
Nuts and seeds are not only delicious but also offer significant amounts of protein. Almonds, cashews, walnuts, chia seeds, and hemp seeds are just a few examples of protein-rich options. They can be enjoyed as a snack, added to smoothies, or used as toppings for salads and desserts, providing a convenient and nutritious way to increase protein intake.
Seitan: The Wheat Gluten Protein Source
Seitan, often referred to as "wheat meat," is made from gluten, the protein found in wheat. It has a meat-like texture and is an excellent source of protein for vegetarian individuals. With its ability to absorb flavors, seitan can be seasoned and cooked in various ways, making it a versatile and satisfying option.
Gone are the days when vegetarians struggled to meet their protein requirements. With a wide range of plant-based protein sources available, individuals can now enjoy a diverse and balanced diet without compromising their nutritional needs. Legumes, quinoa, tofu, tempeh, nuts, seeds, and seitan are just a few examples of protein-rich options that can be incorporated into vegetarian meals. By exploring these alternatives, vegetarians can embrace a healthy and sustainable lifestyle while reaping the benefits of plant power.
When it comes to vegetarian cooking, renowned chefs have mastered the art of creating mouthwatering dishes that are not only full of flavor but also rich in protein. Whether you're a vegetarian or simply looking to incorporate more plant-based meals into your diet, these recipes curated by celebrated chefs will inspire you to explore the incredible world of vegetarian protein options.
Chef's Signature Lentil Burger – by Chef Jamie Oliver
Chef Jamie Oliver's lentil burger is a protein-packed delight that will satisfy even the most discerning burger lovers. Made with cooked lentils, mushrooms, onions, and a blend of herbs and spices, this burger patty is bursting with flavor and texture. Serve it on a whole-grain bun with your favorite toppings and condiments for a complete and satisfying meal.
Grilled Tofu Skewers with Peanut Sauce – by Chef Yotam Ottolenghi
Renowned for his innovative vegetarian recipes, Chef Yotam Ottolenghi offers a delightful dish that highlights the versatility of tofu. Marinated in a tangy and aromatic sauce, the tofu skewers are grilled to perfection, resulting in a smoky and tender texture. Drizzled with a creamy peanut sauce and garnished with fresh herbs, these skewers make for a memorable and protein-rich appetizer or main course.
Quinoa and Roasted Vegetable Salad – by Chef Angela Hartnett
Celebrated chef Angela Hartnett presents a vibrant and nutritious quinoa salad that combines the goodness of protein-rich quinoa with a medley of roasted vegetables. The salad features roasted butternut squash, cherry tomatoes, and red onions, all tossed together with cooked quinoa and dressed with a zesty lemon vinaigrette. Packed with flavors and textures, this salad is a wholesome and satisfying meal on its own or as a side dish.
Spicy Chickpea Curry – by Chef Madhur Jaffrey
Internationally acclaimed chef Madhur Jaffrey brings the flavors of India to your plate with her spicy chickpea curry. This hearty and protein-packed dish showcases the versatility of chickpeas as they simmer in a fragrant blend of spices, tomatoes, and onions. Served with fluffy basmati rice or warm naan bread, this curry is a delightful way to explore the vibrant world of vegetarian Indian cuisine.
 Get ready to savor these delectable dishes and elevate your vegetarian cooking to new heights. Remember, it's always a good idea to consult a healthcare professional or registered dietitian to ensure you're meeting your individual nutritional needs on a vegetarian diet.
Here are some protein rich vegetarian recipes by famous chefs
Chef Bhupender Rawat is a cooking genius with a massive following of 1 million subscribers on his famous YouTube channel, "Honest Kitchen." He's a household name, known for his incredible recipes that delight taste buds and inspire aspiring chefs everywhere.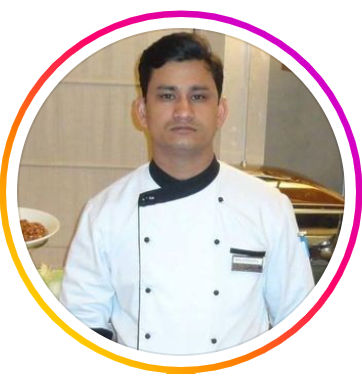 | | |
| --- | --- |
| Portion size | 1 Portion |
| Preparation Time | 8 min |
| Cooking Time | 10-15 min |
Ingredients
| | |
| --- | --- |
| Kala Chana | 20gm |
| Whole green moong | 20gm |
| Chickpea | 20gm |
| Onion medium | 10gm |
| Tomato medium | 10gm |
| Fresh coriander leaves | 3gm |
| Peanuts roasted and peeled | 5gm |
| Tofu | 30gm |
| Black salt to taste | 1gm |
| Roasted cumin powder | 1gm |
| Green chillies chopped | 1no |
| Black pepper powder | 1gm |
| Chaat masala | 1gm |
| Lemon | 1no |
Soak kale chana, Chickpea and Green Moong overnight and drain. Tie it up in a damp muslin cloth, and keep it for 24 hours so that they can sprout. Sprinkle a little water from time to time so that the muslin cloth does not dry up. Similarly sprout green gram.
Take a large bowl, add sprouted kala chana, sprouted green gram, Chickpea, onion, tomato, coriander leaves, roasted peanuts and Tofu. now add spices for the seasoning eg. black salt, roasted cumin powder, green chillies, black pepper powder and chaat masala. Squeeze the juice of lemon into the bowl and mix till well combined.
Transfer the salad into serving bowls, garnish with coriander leaves, Tofu and roasted peanuts and serve cold.
TIP : Add seasoning just before serving the salad to keep salad fresh and health
Abhinay Gupta boasts an impressive 8-year tenure in the food media industry, where he adeptly crafted content for various brands. However, he eventually decided to get recognition of his work in front of the camera, establishing his own platform. His vision was to curate uniquely inventive yet approachable recipes, showcased in an exquisite manner. With his reputation as a celebrated chef and the proud proprietor of The Food Konnect, he continues to thrive in the culinary world.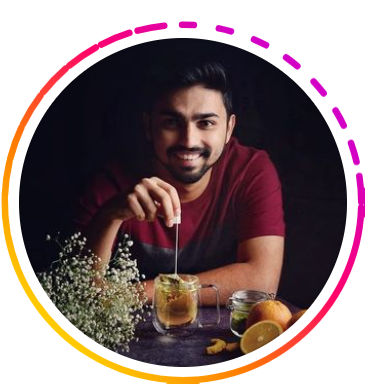 Sprouted Moong & Palak Dhokla
Recipe with Calorie Breakdown :-
| | |
| --- | --- |
| Sprouted moong | 100gm |
| Palak | 100gm |
| Green Chillies | 1no |
| Salt to taste | |
| Besan | 1tbsp |
| Water | 1/4 cup |
| ENO | 1no |
| FOR TADKA | |
| Oil | 5ml |
| Curry Leaves | a few |
| Mustard Seeds | 1gm |
| Green Chilli | 1no |
| Sugar | 1tbsp |
| Water | 1/4tbsp |
| FOR GARNISH | |
| Pomegranate | 5gm |
| Coriander | 5gm |
Method
In a grinder jar, add in palak, sprouted green moong, green chillies, besan, water and salt to taste and grind it into a paste. Transfer it into a bowl.
Add ENO and then transfer it to mugs and microwave it for 3-4 mins.
For the tadka, take a pan and add in the ingredients and then pour this tadka on the demoulded dhokla.
Garnish it with pomegranate and coriander leaves and serve.
You can also steam this like a regular dhokla in a steamer for about 10-12 mins.
Recipe
Palaak Paneer Bombs
Ingredients
1 cup Paneer Grated
1 tbsp Coriander Chopped
1 tsp Chilli Flakes (optional)
Salt To Taste
Palak Gravy (thick)
Cheese Cubes
Refined Flour Slurry (not too thick)
Bread Crumbs
Oil For Frying
Method
Add all the ingredients to the bowl and make a mixture.
Take this mixture and form a dough, take a portion out and flatten it.
In the center, place the thick gravy and on top of it place a cheese cube, making a round shape.
Then coat it in refined flour slurry and then coat it in breadcrumbs and ideally freeze it for 10-15 mins before frying.
Fry it in medium hot oil until golden brown and serve.
You can serve it along with any dip or ketchup.