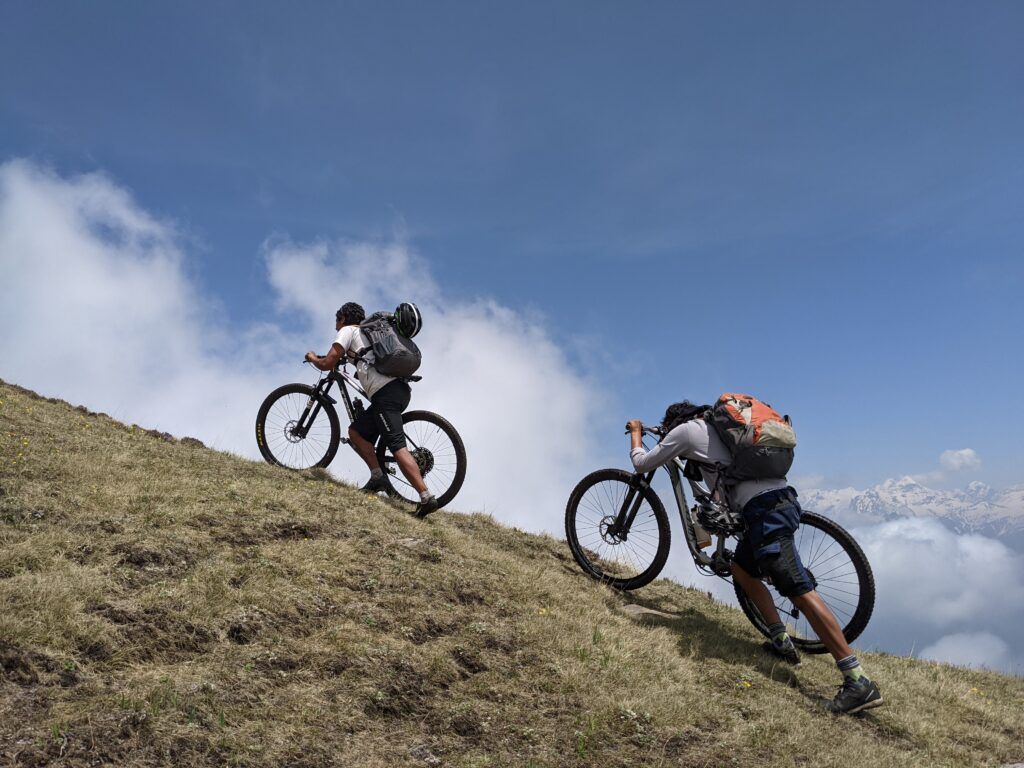 What is life but a never-ending adventure! All of us have hidden wings. Let them spread. Experience a winged adventure through mountain biking.
Life is better on a mountain bike.
If one plans to enjoy a two-week stay in one of the most striking places in Uttarakhand to get a flavor of the majestic mountains' exquisite ambiance, one can take a mountain bike along to get more fun on the trip. It will be like adding choco chips to the cupcake. The most thrilling and tempting part of mountain biking is the feel of a downhill ride accompanied by breathtaking views. It is the reason why many people are into it and love doing it. Mountain biking is becoming a popular sport in India. Although it is more popular as a recreational and leisure sport, it has gained pace as a professional sport over the past few years. 
Like the Red Bull Hardline of Wales, UK, or Red Bull Rampage of Utah, USA there are some famous mountain biking festivals that take place in India. For the last 15 years, MTB Himachal now MTB Himalaya has been organized by HASTPA, an NGO, and now sponsored by Hero and Himachal tourism. National and international participants including world champions, personnel from the armed forces of India, and many young and energetic MTB individual riders from different parts of India take part in it. Started in 2005, the race covers nearly 650 km, 16500 meters of climbing at an average altitude of 2200 meters in a span of 8 days, and is one of the toughest MTB stage races in the world. Apart from this, the Government of Sikkim (tourism department) has introduced its own MTB race with Southeast Asia's biggest prize money.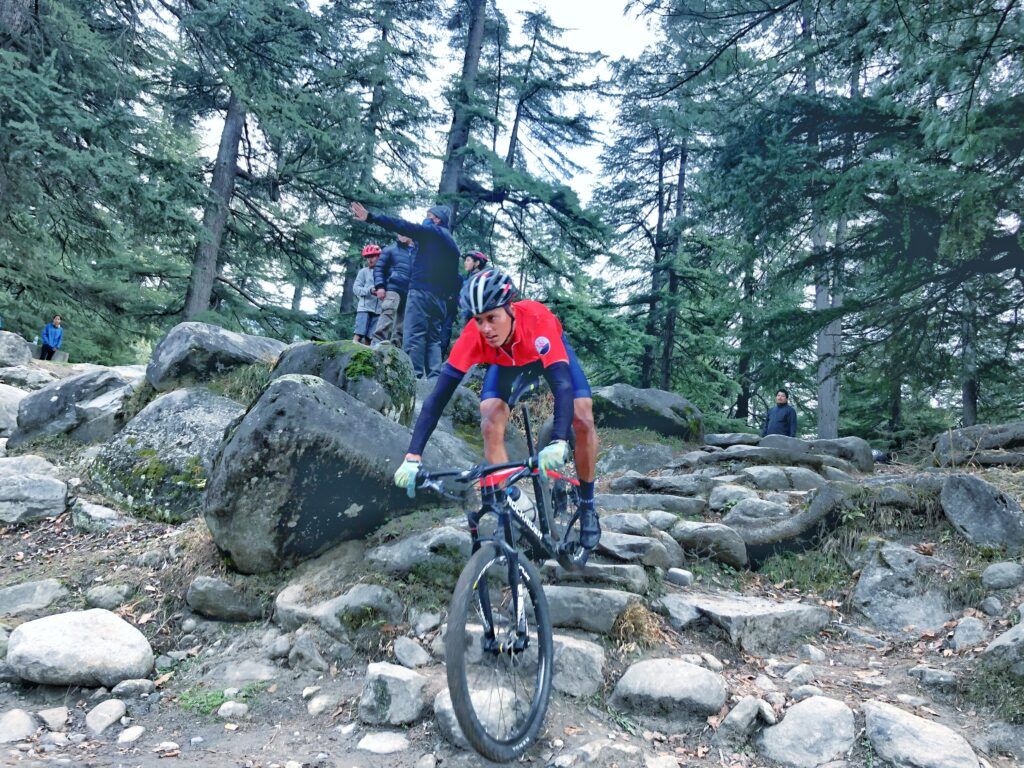 Internationally, mountain biking is very competitive and professional and less leisure-oriented as compared to India. Notable events around the globe in mountain bike racing are Tour de France, Giro d'Italia, Vuelta a Espana, the cross country event at the Summer Olympics, and the World Championships and World Cup organized every year by the UCI (Union Cycliste Internationale) at various venues around the world.
One biker from India shares his experience in mountain biking: Once he was in Ramgarh, a small hill station in the Kumaon division of Uttarakhand. This place is also known as the "fruit bowl of Kumaon" as it has a number of verdurous orchards of peach, apple, apricot, plum, and pear. A stunning unobstructed and wide view of the mighty Himalayas adds to the beauty of this place. Renowned poet Rabindranath Tagore and social worker Narain Swamy had established their ashrams over here. There is also a library dedicated to the famous Hindi poet-writer Mahadevi Verma.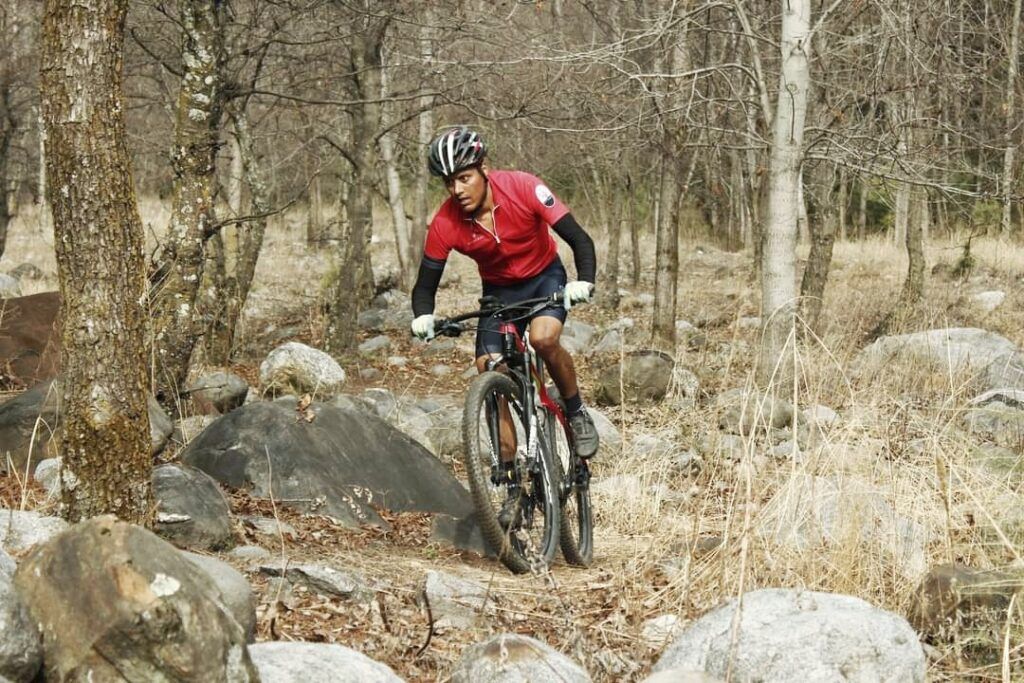 Mountain biking or road biking can also be looked upon as a medium to spread awareness on social issues like environmental conservation, drug abuse, etc. Awareness rides are organized by different organizations; for example in India, the Tour of Nilgiris is a major non-competitive and non-commercial touring event that covers 1,000 km in 10 days. It was started in 2008 with the twin objectives of promoting bicycling as an activity and spreading awareness about the biodiversity, flora, and fauna of the Nilgiris.
Riding in the hills is always fun but it's a very unique experience when you are on a mountain bike. Mountain biking not only rejuvenates and de-stresses you, but it also improves your immunity and brings you closer to nature. It increases your fitness level and makes you more enthusiastic mentally and physically. Mountain biking is gaining more and more attention from people of all age groups day by day, especially the younger generation. While many people like to do it in groups with friends and colleagues, some people love doing it solo. Only the joy of riding can make one realize why life is better on a mountain bike and why everyone should try it at least once in life.