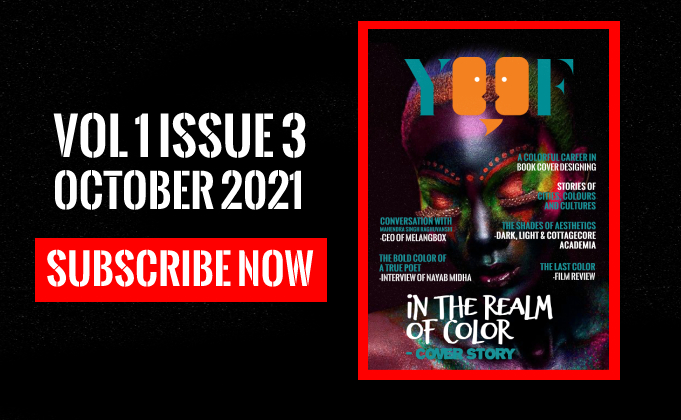 Yoof is here to nurture and guide the aspirations and dreams of those who are the hope of our future. Yoof is an all-in-one magazine for every youth-related issue.
Let us start our new journey towards a better future to build a world as fresh, energetic, and curious as the young minds are.
VOL1 ISSUE 3
HIGHLIGHTS
• A Colorful Career in Book Cover Designing
•The Shades of Aesthetics- Dark, Light & Cottagecore Academia
•The Red Tone of Taylor
•Stories of Cities, Colours and Cultures
•History of Pink
•Houses and Colors in the Magical World of Harry Potter
•History of Rainbow Flag and Pink Capitalism
VOL1 ISSUE 2
HIGHLIGHTS
• Edtech Superheroes
• Create a Change with Wacom Intuos- By Y Haripriya, Master Teacher, Vedantu
• Virtual take on therapy- In conversation with Akshita Panwar
• World of Bookstagram- The nerdy social influencers
• Capturing the story of Cameras
• App Review: Mubi


VOL1 ISSUE 1
HIGHLIGHTS
• Unusual Career Options for GenZ
• Mountain Biking as a rising sport in our country
• A Hidden Festivals in Ice Mountains of India
• Being Stock expert with Crypto-schooling
• Institutes to bring out the Van Gogh in you
• Gender Dysphoria and its identification
• Asur – A Tribal Community Lost in Time and a lot more.