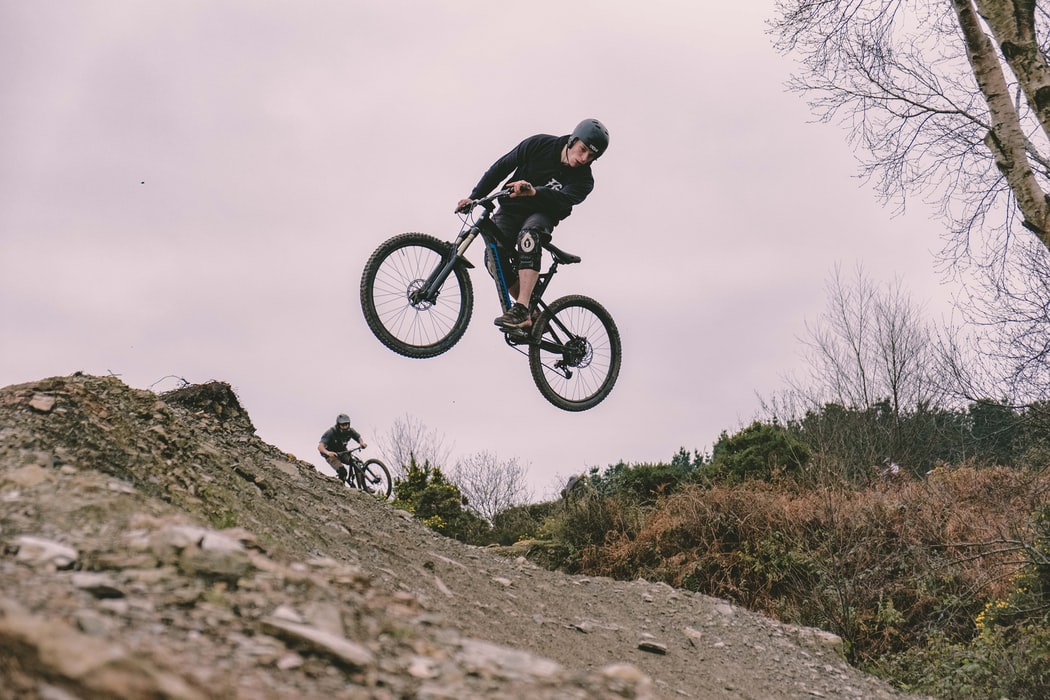 It was going to be a two-week stay in one of the most striking places in Uttarakhand, where I was going to get a flavor of the exquisite ambiance of the majestic mountains. To make the trip more fun, I took my mountain bike along and ended up getting flavors of mountain biking too.
The most thrilling and tempting part of Mountain biking is the feel of a downhill ride accompanied by breathtaking views. It is the reason why all the people are into it and love doing it enthusiastically.
Mountain Biking is becoming a popular sport in India. Although it is more popular as a recreational and leisure sport it has gained pace as a professional sport from the past few years. For the last 15 years MTB Himachal now MTB Himalaya has been organized regularly by HASTPA, an NGO, and now sponsored by Hero and Himachal tourism. National and International participants including world champions, personnel from the armed forces of India, and many young and energetic MTB individual riders from different parts of India take part in it. Started in 2005, the race covers nearly 650 km, 16500 meters of climbing at an average altitude of 2200 meters in a span of 8 days, and is one of the toughest MTB stage races in the world. Apart from this the Government of Sikkim (tourism department) has introduced its own MTB race with South East Asia's biggest prize money.
Internationally Mountain Biking is very competitive and professional and less leisure-oriented as compared to India. Notable events around the globe in mountain bike racing are Tour de France, Giro d'Italia, Vuelta an Espana, the cross country event at the Summer Olympics, and the World Championships and World Cup organized every year by the UCI(Union Cycliste Internationale) at various venues around the world.
I was in Ramgarh, a small hill station in the Kumaon division of Uttarakhand. This place is also known as the "fruit bowl of Kumaon" as it has a number of verdurous orchards of Peach, Apple, Apricot, Plum, and Pear. A stunning unobstructed and wide view of the mighty Himalayas adds to the beauty of this place. Renowned poet Rabindranath Tagore and social worker Narain Swamy had established their ashrams over here. There is also a library dedicated to the famous Hindi poet-writer Mahadevi Verma. It was in the same lanes where I was going to ride.
My bike, an entry-level MTB by Firefox named Maximus 29er(two-niner) was going to accompany me. It comes with 8 shifts/friction of Shimano Acera in the rear and three shifts/friction of Shimano Tourney in the front making a total of 24 gear ratios for a comfortable ride in hills. Equipped with a Suntour XCT suspension with hydraulic lockout and suspension travel of 100 mm, riding on rocky mountain terrain becomes untroubled. The Tektro mechanical disc brakes in front and rear both generate healthy braking for better control on the downhill road. Apart from this, I had some additional gear like a bicycle helmet, elbow/knee guards, and biking gloves for a safe and better ride.
I began my first day early in the morning at 5:00 am as the sweet chirps of the birds woke me up early in a truly rustic way. I came out and found myself amidst towering mountains and lofty peaks on all four sides. It was cold and the air was chilled. I started in the morning with a cup of tea and a piece of (jaggery) which is traditionally very popular here in the mountains dense with the smell of pines and oaks around.
After I got ready, it was time for a ride. I had to haul my bike down till the main road manually. The road from here till the downtown is full of potholes and sharp stones thus giving a full feel of the off-road and downhill. You can expect this kind of terrain at any hill station in Uttarakhand. At the same time, I had to maneuver my bike skillfully and consciously because of the presence of sharp stones on the downhill slope. Mountain bikes have an anti-puncture coating on their tires which makes rolling over obstacles a breeze and the coating also provides better grip and traction on curvy roads. Coming downhill is a cakewalk. The suspension is adjusted to the softer side therefore the ride becomes smooth and it is a good workout for the suspension as well. Once I reached downtown I was free to explore different locations. Also, the roads from here being fully metalled and butter-smooth are as beautiful as the mountains around.
From downtown, a steep height awaits you, and going uphill requires a lot of energy, physically as well as mentally. I set the gear ratio to 1:1 so that more torque could be generated and I adjusted the suspension to the stiffer side to increase pedaling efficiency but even after that, it felt hard to pull after some time because of the steep height being in continuation. Riding uphill will make you feel that your hamstrings are getting stretched. On my ride uphill, I ended up taking several halts. These halts were water breaks and a tea break at a kiosk, but on every halt, I felt more rejuvenated. You gain elevation not only in height but also in your mood, your mind, and your body.
While riding, I came across a lot of Golden Himalayan Raspberry trees (locally known as Husalu). It's a wild, juicy, and sweet fruit full of antioxidants. I would often stop and pluck a handful of them to snack on during the ride.
After riding uphill, it was time for the downhill thrill. Coming downhill is a breeze. As you slide down in the lap of mountains you feel like the earth is pulling you down with all its might. This is the real fun and the most enjoyable part of the ride. But it's dangerous too. A single mistake and you can forget mountain biking forever. High speed at blind turns and hairpin bends which many riders do for fun should be avoided. Apart from the downhill being the most thrilling part of the ride, it takes you to another world altogether. It is a moment which makes you forget everything! It is the thrill that will call you back again the next day for a ride.
Mountain biking or road biking can also be looked upon as a medium to spread awareness on social issues like environment conservation, drug abuse, etc. Awareness rides are organized by different organizations; for example in India, the Tour of Nilgiris is a major non-competitive and non-commercial touring event that covers 1,000 km in 10 days. It was started in 2008 with the twin objectives of promoting bicycling as an activity and spreading awareness about the biodiversity, flora, and fauna of the Nilgiris.
Discovering new locations is a part of the ride. I was able to explore a few locations nearby which varied from forests of pines and oaks, valleys, and nearby villages. Exquisite views, cool weather, fresh air make the rides in the hills a once-in-a-lifetime experience.
Riding in the hills is always fun but it's a very unique experience when you are on a mountain bike. Mountain Biking, being one of the most fun-loving adventurous activities, rejuvenates and de-stresses you, improves your immunity, and brings you closer to nature. It also increases your fitness level and makes you more enthusiastic mentally and physically. Mountain Biking is gaining more and more traction from people of all age groups day by day, especially the younger generation. While many people like to do it in groups with friends and colleagues, some people love doing it solo. Riding here in the hills made me realized why life is better on a mountain bike and I would suggest everyone try it at least once in their life.