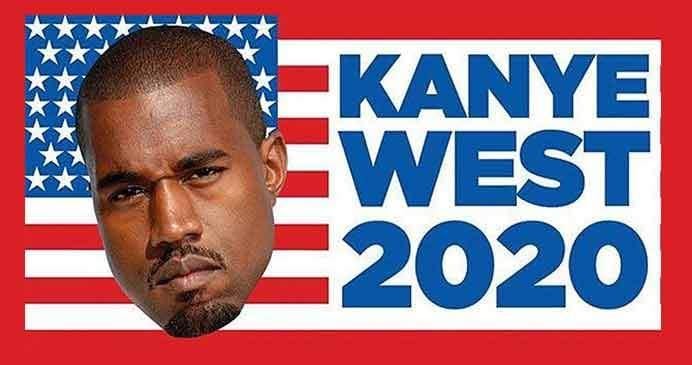 Kanye Omari West aka Kanye West an American rapper, singer-songwriter, record producer, composer, and fashion designer. As if his list of occupations wasn't enough, he was really eager to add another one "President-Kanye".
Kanye's the king of Controversies
Kanye has never been too shy while raising his opinion, he never walks away from any confrontation and he is always keen to share what he feels. One of the famous incident is back in 2009 when Taylor Swift won the award for best female video after which West didn't hesitate from  going up on the stage to proclaim that Beyoncé's video for "Single Ladies (Put a Ring on It)", nominated for the same award, was "one of the best videos of all time".
It was in 2015, at the MTV Music Video Awards, where West ended his  acceptance speech for his Video Vanguard Award by saying that he would run for the seat of Presidency in 2020.
Following which Kanye had some really bizarre moments in-front of the public, which again needs no explanation because Kanye was being "Kanye". In May of 2018, in an interview Kanye told  Charlamagne The God, that his platform would be "the Trump campaign and maybe the Bernie Sanders principles. That would be my mix." Following which Kanye has maintained a close appreciation towards President-elect Trump, from Twitter to wearing the infamous  "Make America Great Again" cap,  Kanye has not failed to show his support towards Trump. Kanye even visited Trump at the white house which resulted in one of the most awkward and odd interactions, the video went viral on the internet. 
Philanthropic life and charity work
Apart from all these eccentricities, Kanye has also showcased his talent as a music composer by making music that has inspired a lot of people. Kanye has also been very determined about his community work, in 2003 West alongside his mother, founded the "Kanye West Foundation" in Chicago with a mission to battle dropout and illiteracy rates, while partnering with community organizations to provide underprivileged youth access to music education. In 2007, Kanye West Foundation partnered with Strong American Schools as part of their "Ed in '08" campaign, for which West personally appeared in a series of PSA's. Kanye has also donated huge sums of money to various charities, recently in the wake of the killing of George Floyd and following protests, he donated $2 million between the family of Floyd and other victims of police brutality Ahmaud Arbery and Breonna Taylor.
Not only Kanye but his wife is also actively working in prison reform to put individuals out of jail who have been wrongfully convicted. So it will be right to assume that Kanye, even though eccentric, has his heart in the right place.
The race for 2020 or 2024 presidency or just a marketing plot?
The entire news sparked up again in July when  Kanye tweeted "We must now realize the promise of America by trusting God, unifying our vision and building our future. I am running for president of the United States! #2020VISION.", to which Elon Musk responded, "You have my full support".
It wouldn't be  a surprise for Kanye fans if he is not serious  as the musician and business mogul, who has a history of promoting himself and his projects with political statements. Kanye has also not registered with any Federal Election Commission so it doesn't appear West has any intention of actually running for president.
With his massive fan following and an estimated net worth of whopping 1.3 Billion Dollars, it is fair to say that he might have had a more than fair shot at being the President. Although he lacks experience in legislation, governing, foreign policy and has never served in any public office but hey that didn't stop Trump from being the president. So I guess now and then we are to bemused by Kanye and his revelations and hope that he takes the idea of the Presidency seriously or not. With the next Presidential election to be held in 2024, does Kanye have what it takes to be the President? What do you think?